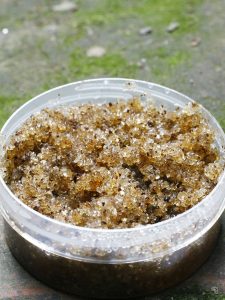 There are many options for creating smooth skin, which can become a bit overwhelming when trying to make a decision. Here are the differences between waxing and sugaring, to help simplify things a bit.
Ingredients
One of the main differences between waxing and sugaring pertains to the ingredients. Waxing is a hybrid formula between natural and chemical ingredients. Waxes are usually made from resins. In contrast, sugaring is all natural and includes sugar, water, and sometimes lemon.
Application
Both waxing and sugaring applies the mixture on the skin, but the difference is in how it is removed. Waxing needs to be removed with a strip of linen or muslin, or even wooden spatulas. Sugaring can be removed with a hand.
The temperature of waxing is hot. It needs to be melted before the application so that the wax can melt enough to be used. It is cooled enough so as not to burn the skin. Sugaring does not need to melt to be effective, so it can be used at room temperature.
One of the more interesting differences between waxing and sugaring is in regards to the direction of hair. Waxing is usually applied in the direction of hair growth. It is then removed against that direction. Sugaring, however, is applied against the direction of hair growth and then removed towards the direction. In essence, they use completely opposite techniques.
Hair Length
If you want your body hair to be waxed, then it needs to be at least ¼ inch thick. Sugaring, on the other hand, requires that hair only be 1/16 of an inch thick. This means that you will have to wait longer between waxing sessions to let hair grow out. If you don't want to wait, or don't want your body hair to get too long, then sugaring is a better alternative.
Types of Skin
Because waxing is partly chemical and needs to be at a hotter temperature, it is not always recommended for sensitive skin. However, there are special hard waxes or lower-temperature waxes that will be just fine for sensitive skin. If you are worried, then sugaring may be a bit better. Its all-natural formula is great on all skin types. Furthermore, it won't remove any live skin cells; just dead skin cells.
Side Effects
Both sugaring and waxing can have side effects. Waxing is often accompanied by redness and inflammation. Sugaring can also result in irritation. It's recommended to take ibuprofen before any hair removal treatment to lessen any pain. However, if you have a skilled technician, then the side effects should be minimal.
After Treatment
After a waxing session, the excess wax will need to be cleaned up from the skin. This can be done with a special oil or lotion. With sugaring, any remaining treatment can be wiped clean with water.