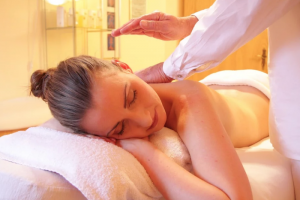 Treat yourself to some self-loving with an incredible Organic Spa Day! You deserve relaxation and special spa treatment. What is an organic facial or an organic spa? Enjoy only the best service and the most natural ingredients for your body. Avoid dangerous chemicals and treatments that may harm you. You have worked hard all year, now it's time for the ultimate Valentine's Spa Day for you and your girlfriends. Discover the most popular spa treatments available today.
Organic Skin Care
You want to baby your skin with the most wholesome ingredients. What is an organic facial great for?
Oily combination skin
Fragile aged skin
Revitalizing and regenerating your skin
Relaxation
Stress relief
Moisturizing dried out dehydrated skin
Exfoliation
A more beautiful bright complexion
Reduce redness and inflammation
Treat acne, blemishes, and ingrown hairs
Calming
Delicate eye skin
Delivering needed nutrients to your skin
Maximum hydration
Your spa specialist will spoil you with a calming skincare treatment that will induce calm and relaxation while rejuvenating tired skin.
Do you have sensitive skin but want to enjoy the beauty of a baby-smooth bikini body? Enjoy less painful hair removal with sugaring services. The mixture consists of sugar, lemon, and water. Experience less irritation overall. While wax often sticks after hair removal sugar removes quickly with water. The process is entirely sanitary. You can use sugaring with most parts of your body: Underarms, full legs, bikini area, face, and chin. Your estheticians can answer any questions you may have about sugaring.
Eyebrow Tinting
Want gorgeous eyebrows? Treat yourself to eyebrow tinting this Valentine's. Simply have a gentle dye applied to your eyebrow arches for fifteen minutes. The dye will darken lighter hairs, giving your eyebrows a fuller more attractive look. The coloring typically lasts for six weeks. Eyebrow tinting is a simply affordable service. Also, ask about eyelash tinting.
Feel like a new you with microdermabrasion plus oxygen treatment. This procedure renews your skin tone and can minimize the number of skin issues like age spots, scarring, and wrinkles. You will feel and see a noticeable difference. Follow up with an oxygen facial that will use pressurized oxygen to reduce any fine lines. The process increases available oxygen to your skin and can leave your skin hydrated and smooth.
This Valentine's (or Galentine's) Day spoil you and your friends with the ultimate in spa luxury and relaxation. Book a spa day today!