Your eyes are the window to your soul. And your face helps to tell that story. That is why it is so important to pamper your face. With your face, you are showing the world a glimpse of who you are.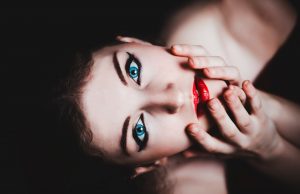 Looking Awake
There's nothing worse than being told that you look tired. Especially if you actually feel awake. It's important to pamper your face to keep it looking awake. Bags under the eyes are the number one sign that you did not get enough sleep the night before. Fortunately, there are a lot of different ways to remedy this.
The first is quite simple: cucumbers. These amazing vegetables are available everywhere at a very affordable price. Simply slice them up, put a few on your eyes, and lay down to relax. Cucumber slices help to bring down the level of water retention in the skin around your eyes, which alleviates the puffiness. In turn, your eyes will look fresh and awake.
Looking Young
Age is nothing to be embarrassed about. It represents your experiences and adventures and accomplishments. But it sure is nice to either look your age, or better yet, a bit younger. There's a certain thrill of being asked for ID at a bar that's a lot better than mistakenly being given the senior's discount.
One simple routine to remember about looking young is to always remove your makeup at night. Using a washcloth and soap is all you need to remove any dirt and grime that has built up through the day. This clears your pores and allows your skin to breathe. Using a washcloth has an added benefit because it is just slightly rough enough to provide a bit of exfoliation.
Looking young can also happen as a result of pampering your face. Combatting sagging skin to make it tighter is great way for a younger looking face. This doesn't have to be invasive. Rather, there are some simple procedures to help give your skin a bit of much needed support.
Looking Confidant
Pampering your face leads to the ultimate goal, which is being confident about who you are. You want people to notice you in a positive way. You want to seem open and friendly so as to built friendships. A fresh, youthful face can help with this. If you know that you look the best that you can, then that will come through in your actions.
You can step out and approach life in a confident manner. There is no need to second guess yourself or worry about the impression that others will have over you. Instead, you can rest easy knowing that you've figured out at least a small part of what makes you happy.