Thermal Radio Frequency – Non Surgical Face Lift
Radio Frequency gently warms the skin. The skins initial reaction is to contract, creating firmness and therefore reduces the many signs of aging including creases, fine lines and sagging. Procedure is painless and relaxing.
Duration of treatment: 120 minutes
Price: $190.00 plus tax / treatment of face and neck [FACE-FOREHEAD ONLY $100] [NECK ONLY $100]
Package:  6 treatments for $950 | 10 treatments for $1710
Recommendation: Series of 10 – 12 treatments for more permanent results, plus maintenance. 
Micro Needling – Dermastamp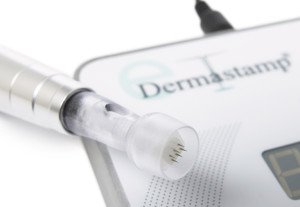 "eDermastamp procedures take advantage of the body's own regeneration process by stimulating cell proliferation that results in new collagen formations. The epidermis is improved in thickness and transparency. Repeated eDermastamp sessions improve the overall skin texture and facial expression." (www.edermastamp.de/en)
After 3 treatments, 2 months apart, clients will see significant (up to 80%) diminishing of:
Fine lines and wrinkles
Tissue scars / Ace Scars
Stretchmarks
Duration of treatment: 60 minutes
Price: $300.00 plus tax / treatment
Recommendation: 5 – 6 Treatments (1 treatment a month)
Oxygen Infusion
 
New Oxygen service with additional cocktail serums according to skin type including Hyaluronic acid to plump up the skin.
Benefits include: Stimulates cell nourishment, detoxifies skin, improves skin texture, and no down time.
Price: $50.00 plus tax for oxygen only (facial not included) or add to any facial for additional $35.00
Steamy Wonder  $100
3 For $270 | 5 For $450 | 10 For $900
Add to any facial for $70 extra
The 'Steamy Wonder' uses a patented heat-circulation design that provides a soothing flow of steam and an even distribution of heat within a steam tent. Enjoy complete comfort and privacy inside the steam canopy and experience the warmth of a steam room without breathing in hot air. (Steamywonder.com)
Health Benefits:
Weight Loss
Detoxification
Beautiful Skin
Stress Relief
Cellulite Reduction
Joint Pain Relief
Eases Sore Muscles
Relieves Allergies / Asthma
Improves Circulation / Reduces Inflammation
Immunity Booster
Urb Organic Spa will offer the following three treatments using the 'Steamy Wonder Spa'
1. Purification and Maximum Detox Treatment: 60 Min – $100
"Heat experienced during a Steamy Wonder Spa treatment speeds up the chemical processes in the body, making it one of the most simple and comfortable ways to rid the body of accumulated toxins. As the pores open up and the millions of sweat glands start to excrete, the body rids itself of metabolic and other waste products." (Steamywonder.com)
2. Weight loss and Cellulite Reduction Treatment: 60 Min – $100
"As you relax in the Steamy Wonder Spa, your body is actually working hard to eliminate toxins and burn fat. Weight loss becomes possible because body fat becomes water soluble at 110 degrees and the body can sweat out fats, toxins and heavy metals. During a heat treatment
your heart works harder pumping blood at a greater rate to boost circulation, supplying the conditioning benefits of continuous exercise. Heart rate, cardiac output and metabolic rate increase." (Steamywonder.com)
3. Sore Joint and Muscle Relief Treatment: 60 Min – $100
"The deep heat of the Steamy Wonder Spa helps to relieve pain by causing the blood vessels to dilate. This causes increased blood circulation and allows more oxygen to get to soft tissue injuries and sore muscles. This helps to reduce pain and speeds up the healing process. Muscles relax most readily when tissues are warm." (Steamywonder.com)
Back Treatment – 60min $65
3 For $165 | 5 For $275 | 10 For $550
This specialized back treatment utilizes many of the techniques used in skin treatments for the face. Our back treatment will clarify and soften the skin of the back while providing a deep moisturizing treatment, which will leave the client with a healthy, glowing back.
Detoxifying Seaweed Wrap = $70
Add detox wrap to any facial = $50