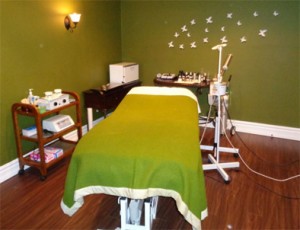 Looking for a problem-free treatment that can help to rejuvenate your facial skin by infusing it with vitamins, anti-oxidants and moisture? That's what the oxygen facial treatment at our spa in Toronto can offer you. In recent years the oxygen facial has grown in popularity tremendously, being adopted by numerous celebrities, such as Eva Longoria, Katie Perry and Naomi Campbell, who consider the treatment as an essential part of their routine prior to high profile appearances. But this isn't a passing fad; the oxygen facial has a number of impressive benefits.
What is An Oxygen Facial?
An oxygen facial is essentially a fusion between state-of-the-art medical technology and the restorative relaxation that is traditionally associated with a spa setting. It's a revolutionary new type of skin care treatment that utilizes high pressure bursts of oxygen to deliver a special type of serum containing extremely small quantities of hyaluronic to targeted skin areas.
How Will an Oxygen Facial Benefit You?
The oxygen facial treatments carried out by the trained team of healthcare professionals at our organic spa offers a series of very desirable benefits, including:
Youthful Looking Skin – This treatment hydrates your skin, smoothes the dermis, tightens the skin and also improves its firmness. This helps to lessen the impact of severe facial lines, smooth out wrinkles and overall give you a more youthful appearance.
Immediate Results – After just a single session of 40 minutes you are likely to notice immediate effects, which is perfect if you have an important event or appointment coming up.
All Skin Types – An oxygen facial isn't restricted to certain skin types; it will have a positive impact upon the complexion of your skin no matter what skin type you possess.
There is absolutely zero recovery time required after an oxygen facial, meaning you will be able to continue with your normal routine the moment you step through the doors of our organic spa. A typical session lasts between half an hour and forty minutes. If you would like to learn more about what actually happens during an oxygen facial or how the treatment actually works, one of our team members would be glad to talk you through it. You can also make bookings by calling us on (647) 344-7451.